A Nike Master Trainer Shares Her Top Tips For Successfully Following the Keto Diet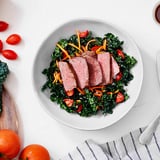 If you've looked at a Nike campaign or one of its many workouts recently, you've probably seen Kirsty Godso, Nike master trainer known as Pyro Girl. Kirsty has followed the keto diet for years, and she told POPSUGAR, "What I love the most is how electric you feel in your body."
While she admits it's not for everyone, she does think people should at least try it for a short period of time "to experience a type of freedom in your body from bloating and food sensitivities." Kirsty isn't strictly following the keto diet currently, but as a keto veteran, she knows a thing or two about how to get the most out of this diet. Here are her tips to help you conquer keto.
Related:

Curious to Try the Keto Diet? Here's Everything You Can and Cannot Eat

Do This to Keep Your Energy High
It's common to feel pretty blah when starting the keto diet since your body is adapting to using fat for energy instead of glucose. Kirsty agreed and said, "Your body will be going through what feels like an emotional time for the first week and a half. I always find day nine is where people start to feel that electric keto buzz! You've got to stay very focused, so remove tempting distractions such as snacks in the house, invitations to indulgent outings, and prioritize some extra sleep. That will help you build an energy wall around yourself while you're feeling a little lower." This advice is not only great for the keto diet but can also be applied to all diets and any other major changes taking place in your life!
Avoid Stress and Plan Ahead
You know how the saying goes: "failing to plan is planning to fail." Before you start the keto diet, take some time to create a grocery list and plan out your meals for the first couple of weeks to make your transition easier. Kirsty said to stay prepared with keto-friendly snacks and make your owns meals during the beginning of the diet instead of eating out, to avoid being surprised by ingredients that aren't keto approved. "Once you're in the motion of keto, you'll never look back, but if you don't nail the entry into it, you might not get the full experience," Kirsty said.
Related:

You Won't See Results on the Keto Diet Unless You Do This 1 Thing

Listen to Your Body and Adjust Your Workouts
A recent study found that high-intensity workouts and the keto diet don't mix. In the words of Kirsty, "Don't burn yourself out." Instead of going hard on day one, reduce the intensity of your workouts during the first week per Kirsty's recommendation. She also said that replacing HIIT workouts with strength-focused training, Pilates, and yoga is useful during the first phase.
Stock Up on Her Go-To Snack
"I rely a lot on raw nuts and a really high-quality protein powder. I personally use whey protein isolate, which is the only dairy I consume." She said that eventually, you'll learn to crave a lot of "weird things" and that flavors will taste much more intense.
Have Fun With It
Instead of going about your diet with "I can't" statements, Kirsty said, "Always remember it's a choice and not a burden." Replace "I can't eat that" with "I don't eat that" to make the diet seem more like a lifestyle than a chore. "It's a high-maintenance way to eat, but as I like to say, your body is the most expensive thing you'll ever own, so be bougie about it! You should care; you should invest."
Read more: feedproxy.google.com
---
---