Before You Crack Open That Bottle of Wine, See How Many Carbs You're About to Drink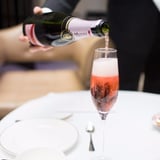 It feels like no matter the time of year, someone is always having a get-together or party, which means celebrating with endless amounts of food and alcohol alike. Yes, this is one of the reasons parties are so much fun, let's be real. But this can be quite the setback for anyone trying to maintain a healthy lifestyle or especially tricky for someone still trying to cultivate the healthy habits that grow from consistency.
In order to indulge without the latent regret, make a few healthy swaps, starting with alcohol. Not every drink is created equal, and that's obvious when you get down to the carb content in each drink. Carb-heavy drinks spike your bloody sugar and make you crave more carbs, and this is when you drunkenly turn to the bread basket and throw caution to the wind and inhale the whole thing before Grandma gets a roll. Refer to this list before choosing your next go-to drink and avoid those pesky holiday pounds.
Related:

Before You Break Into the Hard Stuff, Find Out How Many Calories It Has

Alcohol
Carbs (g per drink)
Vodka, Tequila, Whiskey, Rum, Gin
0
Champagne
1
Budweiser Select 55
1.9
White wine
2
Red wine
2
Michelob Ultra
2.6
Budweiser Select Premium
3.1
Busch Light
3.2
Natural Light
3.2
Miller Lite
3.2
Bud Light
7
Heineken
11
Stella Artois
13
Hot toddy
16
Mulled wine
17
Eggnog
20
Read more: feedproxy.google.com
---
---