Grain-Free Southern-Style Biscuits made with Honey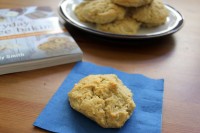 I just got the new book Everyday Grain-Free Baking in the mail a few weeks ago, and ever since it's been the cookbook I hand to my kids to choose a recipe on our Saturday baking day tradition.  Most recipes are GAPS-legal, and if they're not, there are simple substitutes or omissions that can be made. I especially love that they call for ingredients I almost always have on hand – coconut and almond flour are used, but those are in most grain-free kitchens anyway.
The recipes are simple to follow and delicious. So far we've tried these biscuits and the cinnamon-swirl coffee cake with great success!  Kelly offered to let me share the biscuit recipe with my readers, so here it is.  Thanks Kelly!
Make sure you click on over here and check out the rest of the recipes in her Everyday Grain-Free Baking book.
Southern-Style Biscuits
Reprinted with permission from Everyday Grain-Free Baking
Grain-Free Southern-Style Biscuits made with Honey Print Prep time 15 mins Cook time 15 mins Total time 30 mins These fluffy almond flour biscuits are low carb and quick to whip up in the morning! Enjoy alongside soup, or topped with a poached egg and crisp bacon for a breakfast treat! Author: Cara Comini Recipe type: Breakfast, Side Cuisine: Keto, Paleo, GAPS Serves: 8 Ingredients 2-1/2 cups blanched almond flour (find here) ½ teaspoon baking soda ¼ teaspoon sea salt 3 tablespoons unsalted butter (or coconut oil), melted 1 tablespoon honey (omit for keto or replace with 1 packet/scoop of stevia or monk fruit if desired) 2 tablespoons coconut milk 2 large eggs ¼ teaspoon apple cider vinegar Directions Preheat oven to 350°F. Line a baking sheet with parchment paper; set aside. n a small bowl, combine almond flour, baking soda, and salt. In a medium bowl, whisk together melted butter and honey until smooth. Add the coconut milk, eggs, and apple cider vinegar, whisking together until well combined. Using a spoon, stir the dry mixture into the wet mixture until thoroughly combined. Scoop a large spoonful of batter into your hands and gently roll into a ball about the size of an apricot; repeat until you've made Place the dough balls on a parchment-lined baking sheet two inches apart and gently flatten using the palm of your hand. (If dough is too sticky, refrigerate for about 15 minutes before rolling into balls and flattening.) Bake about 15 minutes, until golden brown on top and a toothpick inserted into center comes out clean. Serve warm with a drizzle of raw honey or homemade jam. Nutrition Information Serving size: 1 Calories: 265 Fat: 23 Carbohydrates: 10 Fiber: 4 Protein: 9 3.5.3226
 
The post Grain-Free Southern-Style Biscuits made with Honey appeared first on Health, Home, & Happiness.
Read more: healthhomeandhappiness.com
---
---