Grain Free Low-Carb Coconut Flour Crepes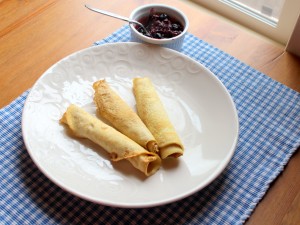 We use these little crepes for everything- they're fantastic on their own with butter, topped with berry syrup for a delicious breakfast, spread with peanutbutter for a traditional lunch, or even filled with taco meat and used as a tortilla.  For families that aren't grain or gluten free, these are still great, because they're high protein and easy for little mouths to eat.  
Coconut Flour Crepes
 
Grain Free Low-Carb Coconut Flour Crepes Print Prep time 15 mins Cook time 10 mins Total time 25 mins These delicious low-carb crepes are perfect for those avoiding gluten, grains, or carbs! Fill with your choice of fillings, sweet or savory, for a special treat. Author: Cara Comini Recipe type: Breakfast Cuisine: Paleo, GAPS, Keto Serves: 12 Ingredients 12 eggs 4 tablespoons fine coconut flour (find here) ⅛ teaspoon sea salt 6 teaspoons refined coconut oil or ghee, to fry Directions Mix all ingredients well, making sure all clumps of coconut flour are broken up. Allow to sit for a few minutes and then mix again. In a skillet over medium-low heat melt 1 teaspoon of coconut oil, tilting pan to coat and allow pan to preheat well to prevent sticking. Add about 2 tablespoons of batter and tilt to make a 6-inch circle. Cook crepe until bubbles start to form and the middle of the pancake looks slightly cooked. Flip gently with a thin spatula and cook until the other side is golden; about 5 minutes on the first side, 2 on the second. Enjoy! Notes Tips: Make sure skillet is pre-heated well. Add fat to prevent sticking between each crepe. Do not use Bob's Red Mill coconut flour- it's not fine enough to bind and the crepes will fall apart. Nutrition Information Serving size: 1 Calories: 102 Fat: 7 Carbohydrates: 2 Fiber: 1 Protein: 7 3.5.3226
 
Find more like this
This recipe is one of the hundreds of recipes that are part of my Grain-Free Meal Plans. The plans include GAPS-friendly, gluten-free, dairy-optional recipes for 3 meals a day, 7 days a week.   If you find yourself in a cooking rut, try just a month of the meal plans and see if that helps!  That's why I made them- I was cooking the same thing over and over again.  Simple meal plans help us to serve a variety of simple delicious dishes to our family 🙂  Click here!
The post Grain Free Low-Carb Coconut Flour Crepes appeared first on Health, Home, & Happiness.
Read more: healthhomeandhappiness.com
---
---