Fitness Trainer Says Do These 5 Things to Lose Enough Fat to Reveal Your Abs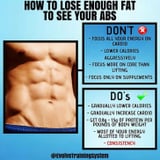 If you lift your shirt in the morning, and say, "OK abs, I'm ready for you to come out," but they're taking their sweet time, personal trainer Dimitri Peskin from Evolve Training System has some advice. "The three things you'll need to lose enough fat to see your abs are A Method + Consistency + Time = A Result."
He adds, "If you can be honest with your self about being consistent, for enough time and the result isn't what you wanted, you need to question the method. But most people don't do that .Most people think they failed. They blame themselves and start believing that they don't have what it takes to do it."
Related:

Want to Lose Fat and Get Abs? This Should Be Your Top Focus (Hint: It's NOT Cardio)

If you're working hard consistently, but not reaching your goals, Dimitri suggests:
Gradually lowering calories: Try using intermittent fasting as a way to tap into that stored energy and create a weekly calorie deficit.
Gradually increasing cardio: High-intensity interval training (HIIT) workouts are the best for targeting belly fat. Here's a 20-minute workout designed to ditch belly fat.
Get .8 to 1.5 grams of protein per pound of body weight: Protein will build your muscles which will not only help you burn more fat, lowering your body fat percentage, but will also help your muscles look bigger, helping your abs pop. Eating enough protein will also satisfy your hunger and reduce cravings for not-so-healthy food. The American College of Sports Medicine recommends 0.5 to 0.8 grams of protein per pound of body weight. If someone weighs 150 pounds, he or she should eat 75 to 120 grams of protein daily. So focus on eating protein every time you eat to meet that goal.
Most of your energy allotted to lifting: Bodyweight moves are effective, but you'll get more bang for your six-pack buck by adding weights and other equipment. Use dumbbells, barbells, kettlebells, bars, boxes, medicine balls – mix it up to keep your muscles guessing. Focus on compound movements that work multiple body parts at once such as squats, pull-ups, deadlifts, and thrusters.
Consistency: Create a plan and stick with it. Here's a diet plan you can try, as well as a workout plan to ditch belly fat. If you don't see results after a few weeks, change it a little, but don't give up!
Read more: feedproxy.google.com
---
---