This Is Jennifer Aniston's "Exercise of Choice" For Maintaining Those Sculpted Arms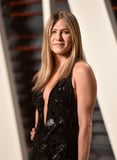 It's no secret that Jennifer Aniston has a rockin' body. Every time she walks the red carpet in a sleeveless dress, we can't help but marvel at her sculpted arms, and her toned legs were truly meant to be shown off in short shorts. Oh, and don't even get us started on how incredible her abs look in a teeny-tiny bikini. The 49-year-old actress, producer, and businesswoman may have mostly relied on yoga to keep her fit in the past, but it looks like she recently kicked things up a notch by adding another, slightly more intense exercise to her routine: boxing.
As InStyle magazine's September issue cover star, Jennifer opened up to her pal of six years Molly McNearney about tabloid gossip, social media habits (or lack thereof), and her career, and the two briefly discussed Jennifer's newfound love for boxing, which she calls her "exercise of choice."
Related:

Jennifer Aniston Hasn't Aged a Damn Day, and We Think This Smoothie Is Her Secret

"Last year I discovered boxing, and I love it. I have this trainer named Leyon, who I believe hung the moon," she joked during the interview. The star admitted that it's the "longest workout [she's] actually stayed with consistently other than yoga," which she's been into for years. "There's something about the mental aspect of boxing – the drills, your brain has to work, you're not just sitting on a bike. It's amazing," she said. We totally agree, Jen – boxing sure is amazing!
So what makes Jennifer love throwing punches so much? "Boxing is a great way to get aggression out," she said during the InStyle interview. "You get a mental release of all this crap you're taking into your ears and eyes every day and have little fantasy moments imagining who you're actually punching. I'm just grateful it's not actually the person, even though there's one person. You know what I mean. It's all good."
Read more: feedproxy.google.com
---
---