If Running Is Your Kryptonite, Try This 6-Move Cardio Strengthening Workout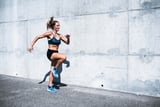 Not going to lie: I find running on a treadmill to be rather boring and at times torture. If necessary, I'll do it (like when it's snowing in New York), but I'd much rather run outdoors with a great playlist or do a high-intensity workout that checks off cardio and strength training at once.
This workout is going to work your arms, legs, and abs all at once, and I can guarantee your muscles will be quivering once you're finished.
The High-Intensity Cardio Workout
You can do this workout at home, at the park, or in the gym. Wherever you do it, just be sure to go as hard as you can. If you find the workout is too intense, feel free to modify each move. For example, doing controlled reverse lunges in place of split lunge jumps.
Before getting started, be sure to warm up. This is a HIIT workout, which means you should take little to no rest in between each exercise. If that's too challenging, feel free to complete the workout at your own pace. After you've completed one round of all the exercises, take 90 seconds of rest. Beginners should do two to three rounds, and intermediate/advanced people should do four rounds.
Jumping jack: 20 reps
Drop squat: 15 reps
Mountain climber: 30 reps
Split lunge jump: 20 reps
Side skater: 20 reps
Burpee with tuck jump: 10 reps
Related:

I'm a Trainer, and These Are My 16 Favorite Ab-Sculpting Exercises

Read more: feedproxy.google.com
---
---