Bethany Hamilton on Getting Back into Pro Surfing: "It's a Really Crazy Challenge"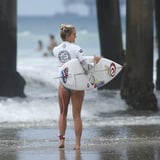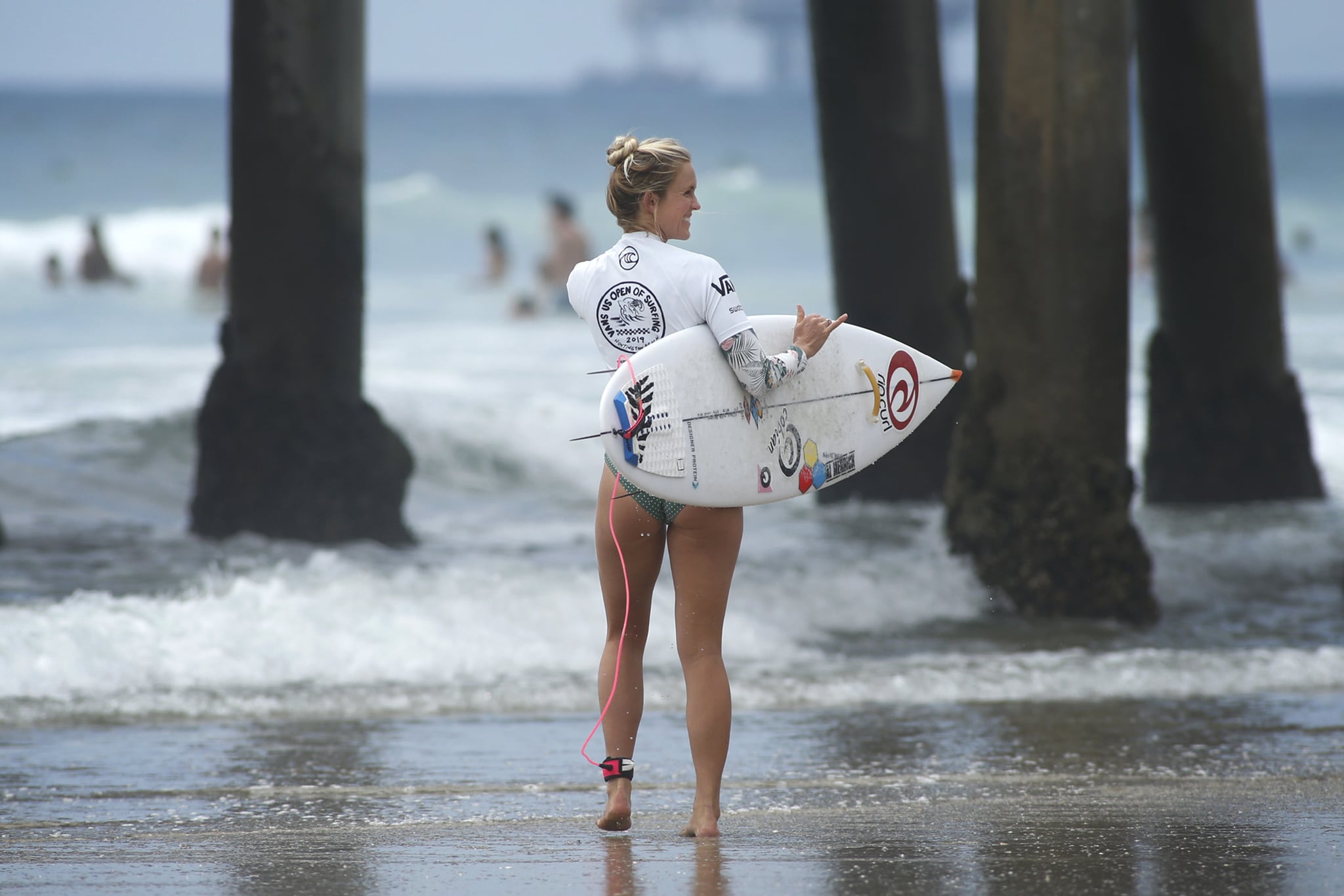 Bethany Hamilton is a name in surfing you should know even if you aren't a fan of the wave-driven sport that's the closest you can get to walking on water. I, for one, was familiar with the basics: Bethany, a Hawaii native, was a successful pro surfer from a young age who, at 13, lost her left arm in a shark attack. She got back on the board less than a month later, entered competitions, and continued her success (she became a national champion within two years!). In watching her documentary, Bethany Hamilton: Unstoppable, I learned even more about her, like the fact that, as a wild card, she placed third in the World Surf League's Fiji Women's Pro, beating world champions in the process, and the fact that she withdrew her 2016 ESPY nomination for best female athlete with a disability.
"I kind of immediately knew that I didn't want to receive the award," Bethany told POPSUGAR over the phone. "Because when I found out I was nominated, I thought I was just best female action sports athlete. . . . To me, the term 'disability' just does not suit me as a human being or all that I've accomplished. If I thought of myself as disabled, then I would not be where I am today. It wasn't an award I felt I could happily receive if I won." She said that "adaptive" would have been a better term for her and the other incredible athletes in that category.
Bethany's been in the spotlight since she was a teen (remember Soul Surfer?), released two books in 2018 alone, and has a year-long online course meant to inspire others struggling through adversity. But, she realized after filming Unstoppable that she wasn't done with surfing competitively. "It was like, 'OK, well what's next? What's some areas of life that I still have more to go?' Competition is definitely an area that is probably not my strongest point," she admitted. "There's so much more room for improvement."
Bethany, who's now 29 and lives in Kauai with her two sons and husband Adam, is following her dreams of making it onto the Women's Championship Tour (she's been invited to compete in select WSL tour events and has also been a wild card pick in the past, but she's never qualified for the tour on her own). She's decided to pursue the WSL's Women's Qualifying Series in 2020, traveling around the world from next March through November with her family in the hopes of qualifying for the 2021 championship tour.
View this post on Instagram
Bethany's surfing is there – seven months after giving birth to her first son, she rode the biggest wave of her career and is now working on her aerials, where you "fly off the wave into the air" – she just has to put it into heats against other pros more consistently, she said, which is a strategy she's focusing on with her coach. "It's really just figuring out how to be heat smart and compete against the ocean more than anything. It's just putting it together in the 30-minute time frame of heats." To make it onto the championship tour, Bethany said she has to finish in the top six women.
She continued, "We'll see how it goes this next year. I'm superexcited but also really nervous. It is a really crazy challenge that I'm setting my sights on. . . . All the girls I'll be competing against, they're more late teens or early 20s, and I feel like my headspace is at a different maturity, so I'm excited just to see how I can deal."
Though Bethany said a "perfect" wave is rare and differs by person – she likes "higher action" waves – the ocean has always been a place of peace for her. "It is a place to rejuvenate and be present and be creative and get exercise in," Bethany explained. You also, she said, soak up some vitamin D, which is a plus. "It has a thousand beautiful elements to it or more. If you're with a friend, this is the time to be together and hang out and cheer each other on, or compete against each other." She concluded, "I feel so privileged to get out there as much as I do."
Related:

Surfer Lakey Peterson Says Your Body Is "Nothing to Be Ashamed of," and We Couldn't Agree More

Read more: feedproxy.google.com
---
---