Alexandra Daddario's AMRAP Workout Gives a Glimpse of How She Got in Baywatch Shape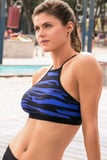 Starring in a movie like Baywatch means getting in superb shape – just ask star Alexandra Daddario, who worked out with trainer Patrick Murphy to sculpt a lifeguard-like physique before the movie's 2017 release. Alexandra recently joined forces with Patrick again for a 20-minute AMRAP workout that's full-body, lightning-fast, and crazy-challenging.
AMRAP stands for "as many rounds as possible," so go ahead and start getting nervous now. For this workout, Alexandra ran through moves for upper body, legs, glutes, and abs to create a true, full-body burn. When done as quickly as possible, a workout like this will also pump up your heart rate, so you can sneak in some cardio as you tone. Keep reading to watch Alexandra crush the full workout and get simple how-tos for each and every move.
Related:

This BBG Beginner Full-Body Workout Is Perfect For People New to or Getting Back to Fitness

Alexandra Daddario's Full-Body AMRAP Workout
Equipment needed: You'll need one pair of light dumbbells and one pair of medium to heavy dumbbells. (Here's a guide to choosing the right weight.) You'll also need a TRX machine and a stability ball.
Directions: Complete 10 reps of each of the following exercises. Once you finish the last exercise, return to the first one and repeat the round, completing as many full circuits as possible in 20 minutes.
Lateral raise
TRX mid-row
Reverse lunge
Jump squat
Push-up
Hip thrust
Stability ball crunch
Read more: feedproxy.google.com
---
---