Get Your Heart Rate Down in Style With This Light Fitness Marshall Dance Routine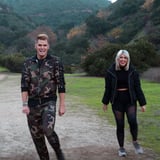 If your workout is the meat of a sandwich, cooling down is that second slice of bread that completes the turkey on rye (or whatever you're having). A cooldown is needed to lower your heart rate and help prevent injury. James Shapiro, NASM-certified personal trainer and owner of Primal Power Fitness, told POPSUGAR in a past interview that inefficiently recovering from exercise "can lead to muscle imbalances, which over time can hinder your mobility." That's why we were super excited when one of our favorite dance-cardio-like-you-mean-it YouTube channels, The Fitness Marshall, came out with a cooldown workout as its first video of 2020.
The short session, only 2:45 minutes long, is set to Tinashe's "Save Room For Us." Typically, The Fitness Marshall posts fast-paced, follow-along dance routines – there was this recent "Faith" workout, quite a few set to Lizzo songs, and another set to Mabel's breakup anthem – but this one is slower than usual, steady, and smile-worthy (these videos always make me smile). It calls for jazz squares, body rolls, and freestyle poses. Give it a try anytime after the bulk of your HIIT, treadmill, or any other workout when you want to ease your way into a stretching or foam-rolling sequence.
Read more: feedproxy.google.com
---
---